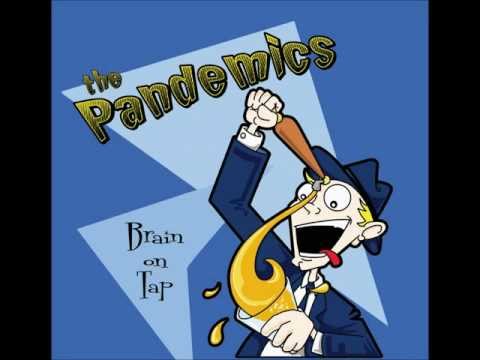 Some of you might remember this group when I made my initial review for them a few months ago. The Pandemics are a ska group from Long Island, New York. They are currently on tour with ska brothers from New York, Eli Whitney & The Sound Machine. Check their schedule on facebook to see if they are coming to a town near you.
Recently, the band released their debut full-length LP entitled Brain on Tap. For a debut, it's very strong, but could use some work. I'm not the biggest fan of ska music and I wouldn't say I'm much of an authority on the subject either, but one thing I can say for sure that the big ska groups of today: Streetlight Manifesto, The Mighty Mighty Bosstones, Less Than Jakes, and Reel Big Fish all put different spins on the music to make it stand out above the crowd and are consistent with their sound. I didn't really think this album was totally consistent nor was it quite them capturing their own sound. It sounds like a sum of their influences scattered across a collection of songs in which they try to prove their musical legitimacy. There's a lot of Streetlight in their with the quirky humor and texture of Reel Big Fish.
The album kicks off with an opening track comprised of fake news reports of a pandemic taking over. It then goes into two really solid tracks, "Brain on Tap" and "Chelsea." These songs are great sing-along, catchy singles and this is where their sound lies. Unfortunately, it starts all going downhill from there. I don't know if it was the translation into mp3, but the intro to "Movin'" is not together rhythmically and takes forever for the band to get into the groove. Plus they introduce a completely new singer, not that there's anything wrong with that, but the songwriting becomes inconsistent with each of the different singers. "Movin'" and "Rhumba de los Muertos" sound nothing like the first two songs I mentioned and it sounds like two different bands on one album.
The other big achilles heel this album is the track "Skaramanga," an instrumental track that doesn't really seem to go anywhere and just kills all the momentum that the album had. The instrumentalists aren't bad and the track isn't that bad itself, but unless it's like "YYZ" then it doesn't belong that high on the album. Save it til the end. The album then has to pick itself up from there and it certainly does with "Hey You," which is a song that was previously released on an EP. That's a great song along and so is "15 Days".
All in all, I think the album is strong, but has a few peaks and troughs. It's okay though because this is just a debut album and the band has a plenty of time to refine their sound and find what truly works for them. They already have at least four really solid tunes worthy of single status. I predict some good things to come and hopefully their tour will come across my area so that I can see their live show.
Luke Helker